GMP Proud
On this page:
GMP Profiles
Distinguished Accomplishments
In the News

GMP Profiles
Meet some of our many outstanding Gifted Math Program students!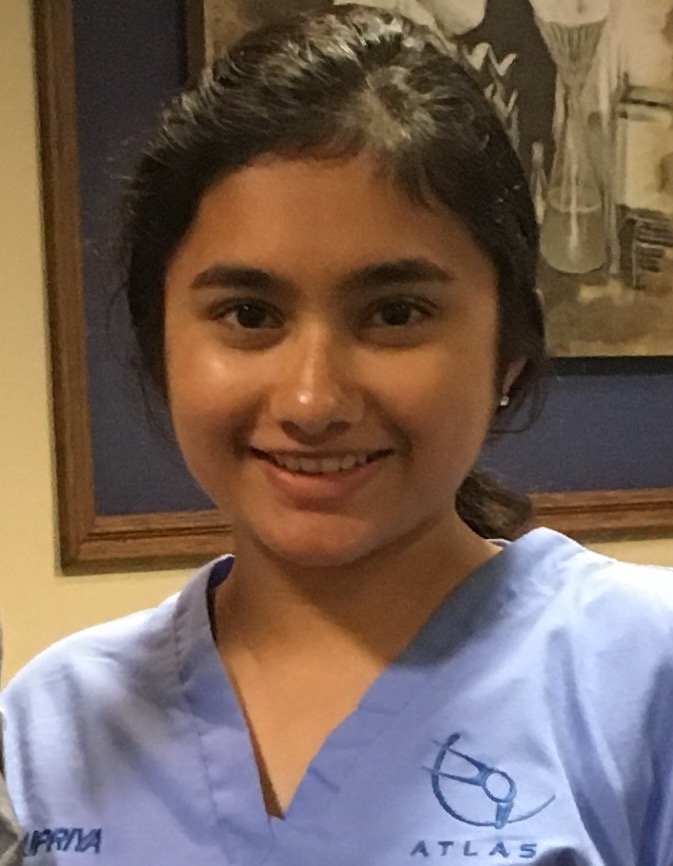 Supriya Pandit (Graduate 2018)
Supriya is a GMP student with many interests and a dedication to service. Supriya was awarded a scholarship from Roswell Park Cancer Institute's Junior Robotic Surgery Challenge (JRSC) summer 2016. Her peers at this program recognized her as a Champion of Teamwork. She received a Certificate of Excellence for participation and also completed the American Heart Association Heartsaver CPR AED program.
At her school, Supriya has been recognized for scholastic excellence in Spanish & English last three years. She is a student officer for Science Olympiad. She has participated in the New York State Regional competition, winning multiple awards in 2016 (Cell Biology, Geologic Mapping) & in 2015 (Dynamic Planet). She is a member of Biology, Chemistry & Mathematics honor societies.
Supriya was selected to attend an annual Leadership Camp that promotes confidence building, teamwork and organizational skill development. She has been member of the tennis varsity team since 2014. She recently qualified for AP Scholar award. She enjoys playing violin in her school's Symphony Orchestra and has been learning Indian Classical Music for more than 10 years.
Hannah Slabodkin (Graduate 2017)
Hannah is a Gifted Math Program Student (class of 2017) who brings great energy and enthusiasm to GMP and to her other academic pursuits.
Hannah partakes in the Roswell Park Science Research Program. This summer, Hannah and her partner from Roswell won GOLD in the Science Discipline at the International High School Project Olympiad focusing on Environment at the 2015 Genius Olympiad at SUNY Oswego.
Hannah is a frequent participant in Science events, including Genius Olympiad, Western New York Science Fair, and the Ying Tri-State Science Fair. She relishes these opportunities to talk with people about science. She also shares her interest with students at her school, City Honors High School, as a volunteer chemistry tutor.
In addition to science and math, Hannah has tried her hand at journalism as a NeXt Correspondent for the Buffalo News. She published a story about GMP which can be found on the Buffalo News website.
Hannah intends to major in both chemistry and pre-med as an undergraduate, and eventually enroll in medical school.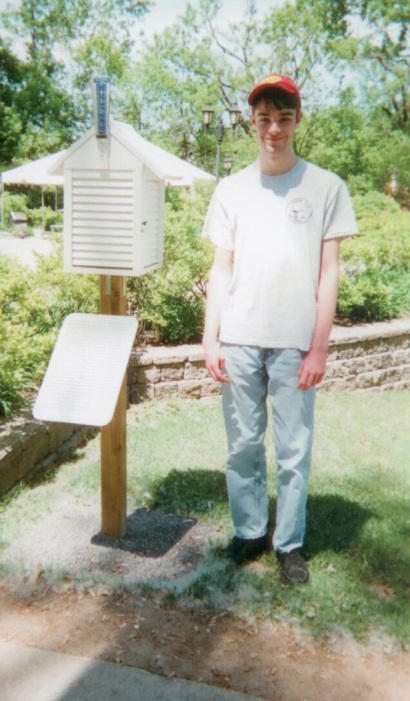 Luke Marcinkiewicz (Graduate 2014)
Luke completed GMP in 2014 and has proven time and again to be an outstanding student.  He graduated from West Seneca East High School in 2014 as his class valedictorian where he was a member of the National Honor Society, the French Honor Society, the Concert Band (percussionist), Masterminds Club and the Science Honor Society.  He was also a National Merit Scholarship Finalist and scored a perfect 800 on the mathematics portion of the SAT!  He was awarded the AP Scholar with Honor Award and the Kiwanis Academic Leadership Award.
Beyond academics, Luke is also heavily involved in volunteering. As an Eagle Scout, Luke created two weather stations for the Charles E. Burchfield Nature and Arts Center located in West Seneca, New York.  Guests can visit these weather stations located in the front of the Center (shown in the picture) and in the Urban Forest section of the park.  Luke has also been a Crew Leader for Vacation Bible School at 14 Holy Helpers.
Luke was accepted into the highly competitive Atmospheric Science (Meteorology) Program through the College of Agriculture and Life Sciences at Cornell University. Cornell is the only Ivy League University to offer an undergraduate program in Meteorology. Luke's future goals include researching climate change.
---
In the News
---

Distinguished Accomplishments

2018-19 School Year

Eli Fox (GMP VI) scored a 1600 on the SAT.

Anish Lakshman (GMP I) was honored as a volunteer at the Summit Center for developmentally disabled children.

Michael Passucci & Colleen Stewart (GMP III & IV) participated in the 2018 ACBL Youth North American Bridge Championships in Atlanta this past summer. They came in first in one of their sections at the Junior Master level.

Anthony Sauer & Vivian Zheng (GMP VI) made the Chemistry Olympiad Western New York Team last spring and competed in the 6-hour US National Chemistry Olympiad

Meghana Cheruvu (GMP III) won four gold medals in regional competitions in the subjects of Anatomy and Physiology, Experimental Design, Thermodynamics and Science Bowl. She will be competing in the New York State Science Olympiad Competition in Syracuse.

Simon Connolly, Yoongyu Heo, and Luke Tu (GMP II) were part of the Future City team from Western New York competing in the Washington DC national competition. The team's hard work won the "Excellence In Resilience Engineering" national prize!

Heesung Kim (GMP VI), Grant GianGrasso, Giorgi Kharchilava, Andrew Lin, Ryan Lopez, Nick Masi, and Pranav Setlur(GMP V), Grady Andrews, Sarah Jiang, and Ellia Yang (GMP IV) all qualified for the New York State Science Olympiad competition!

Grace Czech (GMP I) played Tzeitel, the eldest sister, in her school's production of Fiddler on the Roof. She will also be participating in the chorus at the ECMEA music festival at Kleinhans Music Hall.

Debosir Ghosh (GMP V) received a National gold medal for his piano performance through the Royal Conservatory of Music. He Performed at Carnegie Hall on Feb 16th.

Adhav Narayanan (GMP IV) performed on his violin at the 2019 ECMEA Sr. High North All County Orchestra on March 23rd. He also participated in the 23rd annual NCCC Tech Wars and won 2nd place in the 10th grade 3D Modeling event.

Gabriella Petrizzo (GMP III) was the Soar Student of the month for Art and an "In the Spotlight" award winner.

Colleen Stewart (GMP IV) is excited to be playing the Flute in the ECMEA Band. This is her third year but first at the senior level.

Alan Zdon (GMP VI) was selected as 1st chair on alto saxophone for the All-County Concert Band.

Caroline Brown (GMP II) won four awards at the WNY Regional Science Fair, including The Broadcom MASTERS Regional Award, the WNY Science Congress Gold Award, the Naval Science Distinguished Award, and the Lemelson Early Inventor Prize.

Meghana Cheruvu (GMP III) secured 2nd place for Anatomy and Physiology and 5th place in Thermodynamics at the NYS Science Olympiad Competition in Syracuse.

2017-18 School Year

Eli Fox (GMP IV) was the top overall scorer in the Genesee Valley Math Team League. He was also selected to perform at the state championships in New York City.

Caitlyn Gilmartin (GMP VI and GMP Ambassador) will be participating in Bald For Bucks on April 5th to benefit Roswell Park.

Shefalika Prasad (GMP VI) was named Valedictorian for Clarence High School! She was also offered Northeastern University's full scholarship and RPI's Gold Medal.

Alan Zdon (GMP IV) was selected to play alto saxophone for the Area All-State HS Band, the All-Country HS Band, and also for the NYS Band Directors HS Honor Concert Band. Alan has also performed on occasion with the Erie County Wind Ensemble and the American Legion Band of the Tonawandas this year.

Alex Zdon (GMP II) was chosen to perform with the All-County Band on percussion. Alex received a scholarship from St. Joseph's Collegiate Institution and plans to attend this fall.

Max Tell (GMP VI) is a 2017 National Merit Scholarship Program semi-finalist.

Supriya Pandit (GMP V) was awarded a scholarship from Roswell Park Cancer Institute's Junior Robotic Surgery Challenge (JRSC) summer 2016. At JRSC, she was recognized by her peers as a Champion of Teamwork. Supriya volunteers with the Amherst Youth Consortium and was honored with President's Volunteer Service Awards for her community service in 2015 (Gold 100+ hours) & 2014 (Silver 75+ hours).

2015-16 School Year

Alan Zdon (GMP III) was selected as first chair on tenor saxophone in the jazz band for the Zone 1 Area All-State Junior High Concert. Alan was chosen as a member to the Brother Pompian Honors Academy at St. Joesph's Collegiate Institute.

Alex Zdon (GMP I) was selected to perform on percussion in two honor ensembles: the Zone 1 Area All-State Junior High Orchestra & also the Junior High All-State Band in Syracuse.

Sophia Wang (GMP VI) was the Principal of Viola in the Symphony Orchestra for the 2015 NYSSMA Senior High Area (Zone One) All-State Concert , which was held at SUNY Fredonia on November 21,2015.

Joseph Juncewicz (GMP II) earned the Presidential Scholarship for St. Joseph's Collegiate Institute and was invited to join the Pompeiian Brother's Honor Society Program. He also earned a Peter Canisius Presidential Scholarship and was invited into the Ignatius School Honor's Program at Canisius High School.

Eli Fox (GMP III) was the top-scoring freshman on the Genesee Valley Math Team league. He was also selected to perform on the All-Stars Math team.

2014-15 School Year

Dr. Gerald R. Rising (GMP Founder) was inducted into the NYS Mathematics Educators' Hall of Fame on September 19, 2014.

Dr. Deborah Moore-Russo (GMP Director) was given the Teaching Innovation Award by the University at Buffalo for her instruction in the Graduate School of Education on October 8, 2014.

Michael McClure (GMP I Student) was invited to Johns Hopkins University for the Center for Talented Youth Grand Award Ceremony. Michael scored in the top three percent or higher of over 53,000 CTY test takers nationwide!

Alan Zdon (GMP II) was selected as first chair to play alto saxophone in the Area-All State Band (NYSSMA). Alan was also asked to perform in the All-State Band (NYSBDA) this spring with his choice of instrument, alto or baritone saxophone. Additionally, Alan is playing tenor saxophone for the Casey Middle School Jazz Band & flute in Casey's Flute Choir. Alan was awarded the Presidential Scholarship at St. Joseph's Collegiate Institute.

Joshua Seefried (GMP IV) passed his Eagle Scout Board of Review. His project entailed the rebuilding of a playground.

Hannah Slabodkin (GMP IV) wrote two articles that were published in the Buffalo News Next Section in November 2014 and May 2015. The second was about GMP! At the 2015 Dr. Nelson Ying Tri Region Science and Engineering Fair, Hannah and her partner Sydney Johnson won Highest Honors, County Science Champions for Erie County, Genius Olympiad Advancement, and Alternate for the 2015 INTEL International Science and Engineering Fair for their project "Determining the Role of Rac1 in Resistance to BRaf Inhibition in Melanoma".

Alayna Nomula (GMP II) was awarded the Presidential Bronze Medal in the young adults volunteering category for 56 hours of volunteering in the year 2014. She has shown great commitment to her community.

Sophia Wang (GMP III) was honored with the President's Volunteer Service award for her service to the community in 2014. She also received the Youth Engaged in Service Program's Gold Award, which honors students who have volunteered at least 100 hours within the past year.

Maria Giaquinto (GMP VI) was named salutatorian for the Nardin Academy class of 2015. She is also being recognized by Business First as 1 of the top 25 Academic All stars. Maria will be attending Georgetown in the fall.

2013-2014 School Year

Yankang Yang (GMP VI) became the first student from Western and Central New York to win a grand award (3rd place in Molecular and Cellular Biology) at the Intel International Science and Engineering Fair in its 64-year history. The fair was held May 12-17 in Phoenix, AZ with more than 1600 finalists from around the world and was a great experience. "In my three years working in a lab at Roswell Park through City Honors' Science Research Program, I have used many mathematical concepts to drive my research, many that I've learned through GMP. I would like to thank you for taking your time to run GMP and would also like to thank all the great teachers in the program that have allowed me to reach for my dreams." Check out the ISEF fair website: http://www.societyforscience.org/intelisef2013

Supriya Pandit (GMP II) was awarded the Outstanding 7th Grade Student award at Casey Middle school for highest average and scholastic excellence. She also received recognition awards for Orchestra, Artistic Achievement and Community Service. She was placed 1st in literature and 2nd in visual arts for PTA Reflections 2012-2013 at the district level. Her poem "A Tree of Dreams" was selected for the Williamsville Poetry and Art Festival. She designed exclusive hand-crafted jewelry and ornaments for participation in the Holiday Craft Show at Heim Middle School.

Mack Ward (GMP Graduate 2010) was a member of a 4-person computer science team from the University at Buffalo who won first place at a hack-a-thon at Kent State University. Mack and his team created a computer program that allows people to browse the web by using head motions instead of a mouse or touch screen.

Luke Marcinkiewicz (GMP VI) was named a National Merit Finalist and scored an 800 on his Math SAT. He was also named class valedictorian at West Seneca East Senior High School for the Class of 2014.

Hannah Slabodkin (GMP III) was accepted into the City Honors School Science Research Program at Roswell Park Cancer Institute and Hauptman-Woodward Medical Research Institute. She was selected to work with Dr. Eugene Kandel at Roswell Park in the Department of Cell Stress Biology. She will be working in his lab as part of his research team for the next 3.5 years.

Anna Botticello (GMP I) received the Presidential Scholarship from Mount Saint Mary Academy.

Ananya Nrusimha (GMP V) has qualified to be on Jeopardy. She has done her taping and was on the show in July 2014.

Stephen Pasek (GMP Graduate 2013) has been named one of 572 semifinalists in the 2013 US Department of Education's Presidential Scholars program. Semifinalists were selected from more than 3,900 graduating seniors throughout the United States, its territories, and US students living abroad. Stephen was chosen as a semifinalist on the basis of perfect SAT scores, superior achievements, leadership qualities, personal character, and involvement in community and school activities by a panel of distinguished educators whom make up the White House Commission on Presidential Scholars.

---